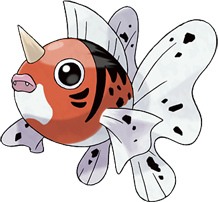 About seaking
Seaking is very protective of its eggs. The male and female will take turns patrolling around their nest and eggs. The guarding of eggs by these Pokémon goes on for over a month. It makes its nest by hollowing out boulders in streams with its horn. It defends its eggs with its life. In the autumn spawning season, they can be seen swimming powerfully up rivers and creeks.
Pokédex entry #119
seaking Evolution

seaking in Pokémon GO
It's possible to hatch seaking from an egg?
No, seaking can't be hatched.