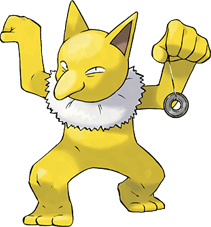 About hypno
Hypno holds a pendulum in its hand. The arcing movement and glitter of the pendulum lull the foe into a deep state of hypnosis. While this Pokémon searches for prey, it polishes the pendulum. Seeing its swinging pendulum can induce sleep in three seconds, even in someone who just woke up. It carries a pendulum-like device. There once was an incident in which it took away a child it hypnotized.
Pokédex entry #97
hypno Evolution

hypno in Pokémon GO
It's possible to hatch hypno from an egg?
No, hypno can't be hatched.