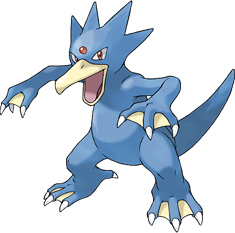 About golduck
Golduck is the fastest swimmer among all Pokémon. It swims effortlessly, even in a rough, stormy sea. It sometimes rescues people from wrecked ships floundering in high seas. The forelegs are webbed, helping to make it an adept swimmer. It can be seen swimming elegantly in lakes, etc. It appears by waterways at dusk. It may use telekinetic powers if its forehead glows mysteriously.
Pokédex entry #55
golduck Evolution

golduck in Pokémon GO
It's possible to hatch golduck from an egg?
No, golduck can't be hatched.