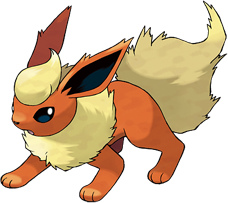 About flareon
Flareon's fluffy fur has a functional purpose—it releases heat into the air so that its body does not get excessively hot. This Pokémon's body temperature can rise to a maximum of 1,650 degrees Fahrenheit. It has a flame bag inside its body. After inhaling deeply, it blows out flames of nearly 3,000 degrees Fahrenheit. It has a flame sac in its body. Its body temperature tops 1,650 degrees Fahrenheit before battle.
Pokédex entry #136
flareon Evolution
flareon is a type fire Pokémon .

flareon in Pokémon GO
It's possible to hatch flareon from an egg?
No, flareon can't be hatched.
Which are flareon's strengths and weaknesses?
flareon is a fire type Pokémon. fire type pokémons are strong against grass, ice, bug, steel, fairy pokémons but weak against fire, water, rock, dragon pokémons.