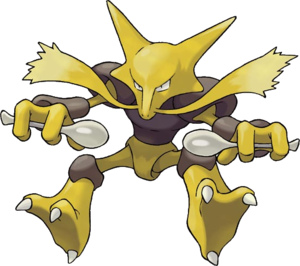 About alakazam
Alakazam's brain continually grows, infinitely multiplying brain cells. This amazing brain gives this Pokémon an astoundingly high IQ of 5,000. It has a thorough memory of everything that has occurred in the world. Its brain can outperform a supercomputer. Its IQ (intelligence quotient) is said to be around 5,000. Its brain cells multiply continually until it dies. As a result, it remembers everything.
Pokédex entry #65
alakazam Evolution

alakazam in Pokémon GO
It's possible to hatch alakazam from an egg?
No, alakazam can't be hatched.